Urban Innovation Challenge Fosters Collective Action in Building Resilient Cities
Research shows that Jakarta, Surabaya, and Bandung, are among the ten cities with the highest environmental risks globally. These conditions might impact our lives and create disturbances or setbacks in achieving sustainable development.
PRESS RELEASEEVENT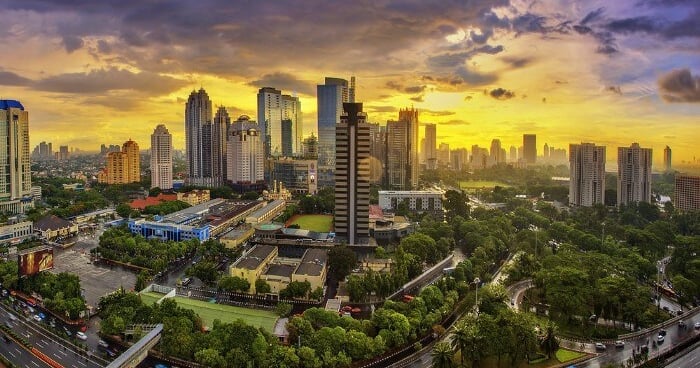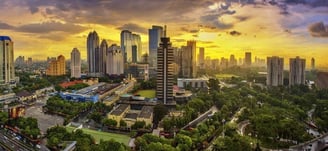 Cities across the globe are prone to various hazards and environmental degradation caused by climate change or the inability to manage the environment. Indonesia is among the many countries with high urbanization rates at an estimated growth rate of 4.1 percent per year. With the threat of climate change, Indonesia, which sits on the so-called Pacific Ring of Fire, is especially vulnerable to natural disasters, including floods, hurricanes, and rising sea levels. Research by global risk consulting firm Verisk Maplecroft shows that three cities in Indonesia, Jakarta, Surabaya, and Bandung, are among the ten cities with the highest environmental risks globally. These conditions might impact our lives and create disturbances or setbacks in achieving sustainable development.
Opportunities to build resilient cities
Before we go any further, we should understand the relationship between human life and the earth to create a resilient city from various hazards and environmental degradation. Our need for constant socio-economic development coupled with nature's unpredictability may have created these hazards in the first place. This starts from realizing that in the Anthropocene era, we, as humans, play an essential role in the process of change and transformation and have had such a significant impact on the earth and its habitants that we will have a lasting — and potentially irreversible — influence on its systems, environment, process, and biodiversity as well as mitigating the impact of development on the earth. It would be wise if the grassroots communities, including vulnerable members, should be the ones that act to alleviate their daily problems, to be the agencies of sustainable development for their own sake.
In building resilience, grassroots communities need to collaborate among themselves or with external agencies to transform their social and economic processes. This inclusive transformation process implemented with the stewardship of nature principle will create a resilient community as the building block of a resilient city. Together with a strong sense of community rooted in Indonesian values, these different actors and stakeholders can innovate as they build a resilient city to improve the well-being of the urban community toward a sustainable future.
Urban Innovation Challenge: Co-create Grassroots Innovations
UNDP Accelerator Lab Indonesia, together with our main partners, the National Research and Innovation Agency (BRIN) and Ecoxyztem Venture Builder, organized the "Urban Innovation Challenge (UIC)," a program to crowdsource grassroots solutions and encourage the co-creation of the social innovation to solve urban development problems faced by grassroots communities. The program called for grassroots solutions through three main themes: Smart Cities, Waste Management, and MSMEs & Digitalization. These topics are closely related to problems in urban areas and are essential elements in building a resilient city.
The program journey began with a public call for innovations where we received many exciting solutions from 118 teams coming from various cities in Indonesia. Through a rigorous and gender-responsive selection process, 11 teams were invited to participate in an online boot camp consisting of intensive workshops and mentoring from experts and practitioners with a strong background in urban issues. Over the period of one month, they joined a comprehensive learning process on portfolio design, systemic thinking, immersion method, and the culture of social innovation so that they could do social mapping and measure their impacts. They are involved in a collaborative process with experts, practitioners, and other participants by using practical technical tools and methods that will help them sharpen and communicate their ideas. Furthermore, they also learned about effective proposal writing techniques and communicative and attractive presentations.
The teams developed proposals and presented their innovative solutions at a Demo Day in a hybrid event. After evaluating their proposals and presentations, including substance, impact, and management, three teams with the best innovations were selected per category. CEGAS Studio with Participatory Smart Urban Resilience, an open incubation and collaboration digital space between the community and the government for inclusive disaster management in Slawi City, Central Java. FOKKALIS offers an innovative solution to prevent food loss and waste in Kramat Jati, Jakarta, collaborating with fruit tenants and empowering local communities. Sayur Sleman brings digitalization of local fresh markets to increase social and economic impact in Yogyakarta. This year, these teams are prototyping their innovative solutions over six months with support from UNDP Accelerator Lab and UNDP Restore project.
The Urban Innovation Challenge provided a platform for multi-stakeholder collaboration, particularly in grassroots communities. It is expected that similar collaborations will continue to contribute to solving urban development problems by fostering innovation, harnessing and scaling up grassroots solutions, and collaborating with affected communities to become more resilient and create a lasting impact.
———
Written by:
Muhammad Didi Hardiana, Head of Experimentation UNDP Accelerator Lab Indonesia
Ratna Ningrum Sudaryo, Partnership & Community Manager of Ecoxyztem
Edited by:
Ranjit Jose, Communications and Advocacy Specialist UNDP Indonesia