Ecoxyztem Venture Builder Raised Investment Capital to Develop More Climate-Tech Startups
Ecoxyztem have raised funding from TAP Applied Agri Services, Konservasi Hutan Indonesia, Pegasus Tech Ventures, as well as Medco Foundation chairman Roni Pramaditia. The climate tech venture builder aims to develop at least 4 startups per year.
PRESS RELEASEINVESTMENT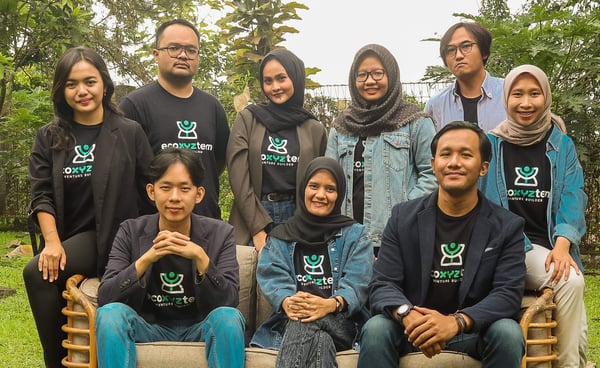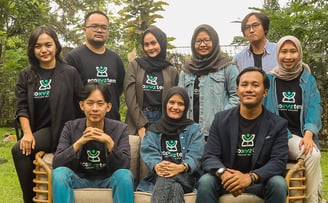 Jakarta, October 2022 - Ecoxyztem (PT Greeneration Indonesia), the venture builder for startups in environmental and climate change issues (climate-tech) has just received funding from several local and global investors. The undisclosed amount of funding was obtained from several corporate investors in Indonesia such as PT TAP Applied Agri Services, PT Konservasi Hutan Indonesia, a global investor from Pegasus Tech Ventures, and individual investors by Roni Pramaditia who currently serves as the Chairman of Medco Foundation.
The success of Ecoxyztem in obtaining this funding proves that more stakeholders believe in the environmental sector businesses, a positive signal for the climate-tech field which is currently starting to grow and develop within the startup ecosystem in Indonesia. The funds obtained will be used as working capital to intensively develop at least four startups per year, and reach more business actors in the climate-tech sector that can contribute to reducing Greenhouse Gas (GHG) emissions in Indonesia.
According to Jonathan Davy, Co-Founder and CEO of Ecoxyztem, the venture-building process from Ecoxyztem is needed by ecopreneurs (environmental business founders) in the early stages of their business growth. Ecoxyztem becomes an institutional co-founder for start-ups by facilitating their business growth with methodologies tailored to the Indonesian context.
According to the pillars of work, Ecoxyztem provides access to talent, venture architecture for business modeling, go-to-market activities through business matchmaking, and also investment fundraising. Hopefully, it will help the startups reduce their investment risk and help increase investor confidence that will invest in environmental issues startups, including the climate crisis, said Jonathan Davy.
Currently, Ecoxyztem has 4 startup portfolios, Waste4Change in the field of waste management, ReservoAir which solves flooding problems, Ravelware which drives the green industry transition, and Enertec which works in the energy efficiency sector. In addition, there are also programs such as Circular Jumpstart, Urban Innovation Challenge, and the Climate Innovation League which have become a medium for Ecoxyztem to get to know at least 45 climate-tech startups in Indonesia through learning classes and mentorship programs.
"Ecoxyztem was born based on the concern of environmental issues, which is growing faster than the solutions. Through the venture builder model, we believe it will encourage the creation of more innovative solutions to address the environmental issues around us," said Bijaksana Junerosano as President Director of Ecoxyztem.
Following the positive response that has been received, the Ecoxyztem team is currently promoting the #TrustinEcopreneur movement to raise public awareness about climate-tech startup solutions, and increase the confidence of ecopreneurs. As result, people can have more trust in using the solutions offered by environmental startups. "The potential of Indonesian youth is extraordinary. Therefore, we must support this movement in order to overcome environmental issues while opening up wider green job opportunities. Let's together support Ecoxyztem and the #TrustinEcopreneur campaign," said Roni Pramaditia, the Chairman of Medco Foundation.
More information, please contact:
Andreas Pandu Wirawan, CCO Ecoxyztem
Phone: 085973121791 | E-mail : hello@ecoxyztem.com