Bukber for Sustainable Future: The Rising of Ecopreneurship in Indonesia
In commemorating Earth Day 2022, GK-Plug & Play Indonesia, Ecoxyztem, and CoHive collaborate to conduct "Bukber for Sustainable Future: The Rising of Ecopreneurship in Indonesia."
PRESS RELEASEEVENT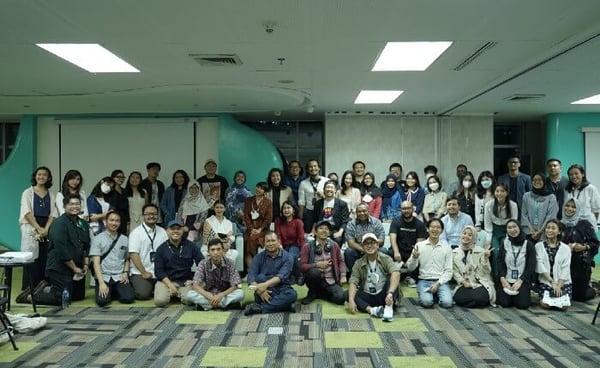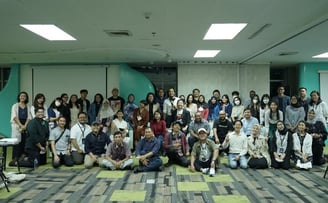 Peserta Bukber for Sustainable Future
In commemorating Earth Day 2022, GK-Plug & Play Indonesia, Ecoxyztem, and CoHive collaborate to conduct "Bukber for Sustainable Future: The Rising of Ecopreneurship in Indonesia."
Earth Day 2022 is prioritized on accelerating solutions to combat our greatest threat, climate change, and to activate everyone — governments, citizens, and businesses — to do their part. Everyone accounted for, and everyone accountable. This year's theme is "Invest Our Planet", focusing on engaging more than 1 billion people, governments, institutions, and businesses who participate in Earth Day to help accelerate the transition to an equitable, prosperous green economy for all.
This event was held with the aim of bringing together all stakeholders on the issue of sustainability and the environment in Indonesia, from startups, government; investors; private sectors; development agencies; as well as green movements, in the form of talk shows featuring experts on environmental issues from the Environment and Forestry Sector of the Indonesian Chamber of Commerce and Industry (KADIN); Greeneration Group, Engagement Group Values20, and Lingkar Temu Kabupaten Lestari (LTKL).
"Environmental startups must be able to deepen what they are looking for and what problems young ecopreneurs want to solve. Because at this time, the industry and investors have begun to pay more attention to innovations that can connect traditional businesses towards more environmentaly friendly and sustainable ones, that's where young ecopreneurs can come in and fill their roles." — Silverius Oscar Unggul (Deputy General Chair for Environment and Forestry, KADIN)
Sustainable solutions and innovations to environmental problems are very important to be widely applied as the world climate situation continues to deteriorate, especially if we cannot reduce the rate of climate change below 1.5 degrees Celsius until 2030 according to the Paris Agreement target.
"There are actually a lot of communities in the regions that have the potential for sustainable innovations that have extraordinary impacts, both from an economic perspective and from a nature conservation perspective. For example, the potential of tengkawang fruit from Sintang which is currently exported to many countries as raw material for butter, soap, cosmetics, and others. This is what we need to push together so that what produces economic value does not necessarily harm the environment but can even coexist with one another." — Gita Syahrani (Head of Secretariat, Lingkar Temu Kabupaten Lestari)
After environmental innovations emerge from ecopreneurs, there is also the importance of building a supportive ecosystem that can oversee all solutions from the generation of ideas to product formation, to adjustments to market needs so that they can be used not only for certain groups but for all levels of society. Because it is undeniable that there must be "an entity" that can bridge and accompany young startups to be able to discuss or negotiate with organizations or companies that have been operating for decades in certain sectors.
"Greeneration Group was born from the anxiety of young people who see environmental problems that the pace is much faster than the solutions created in the community. We are here to try to accompany and lead ecopreneurs to grow together, both in terms of environmental solutions as well as economic and business growth." — Mohamad Bijaksana Junerosano (Founder, Greeneration Grup)
In addition to those three speakers, there were Ketut Saguna Narayana, Co-Leader Management and Governance Value 20 (V20), and Grace Paramitha, Co-Chair Youth (Y20) as a speaker and moderator in the talk show who were able to provide special perspectives from representatives of the G20 Engagement Group. Moreover, this year Indonesia will have the momentum to host an annual event that gathers 20 leaders of countries with the largest economies in the world, the G20.
"Earth Day this time is expected to be the beginning and forerunner of the green startup ecosystem rising in Indonesia. We hope that at the end of the year, at the G20 event, Indonesia can be the host and leader in the transformation process from a conventional industry to an industry that is more environmentally friendly. We from Ecoxyztem as a venture builder are ready to support the government's agenda, especially those related to green economy goals, so that ecopreneurs' innovation is truly the answer to the creation of an industrial ecosystem that is in harmony between the economy, social and environment." — Jonathan Davy (CEO, Ecoxyztem)
Let's join forces to accelerate the transition to an equitable and prosperous green economy for all!